Wiring Colors | Electrical Wire Color Coding Standards
Electrical wiring color coding standard for three phase electrical applications are standardised to aid the identification of individual wire phases. Wiring colour codes for AC and DC power distribution circuits have changed on numerous occasions and vary depending on region. For three phase electricity supply, circuits will use five wires: earth wire, neutral wire, live wire, line 2 wire, line 3 electrical wire. This article details the following cable colour codes:

- International Wiring Colors
- US Wiring Color Codes
- Old & New UK Wiring Colors
International Wiring Color Codes
Fixed wiring electricity supply requires specific wiring colour regulations (bs 7671) to identify different power lines in different countries. The USA have their own wiring colors for electrical circuits, black, red, and blue are used for 208 VAC three-phase; brown, orange and yellow are used for 480 VAC. Australia also have a different wiring colour standard. The UK's new cable colors for plugs are now harmonise with Europe's power cable colors for AC & DC. Most of Europe abides by IEC ('International Electrotechnical Commission') electrical wiring colors code for AC branch circuits.
| Region | Earth (E) | Neutral (N) | Line 1 (L1) | Line 2 (L2) | Line 3 (L3) |
| --- | --- | --- | --- | --- | --- |
| Europe & UK | Green | Blue | Brown | Black | Grey |
| UK (Old) | Green | Black | Red | Yellow | Blue |
| Australia | Green | Black | Red | White | Blue |
| USA | Green | White | Black | Red | Blue |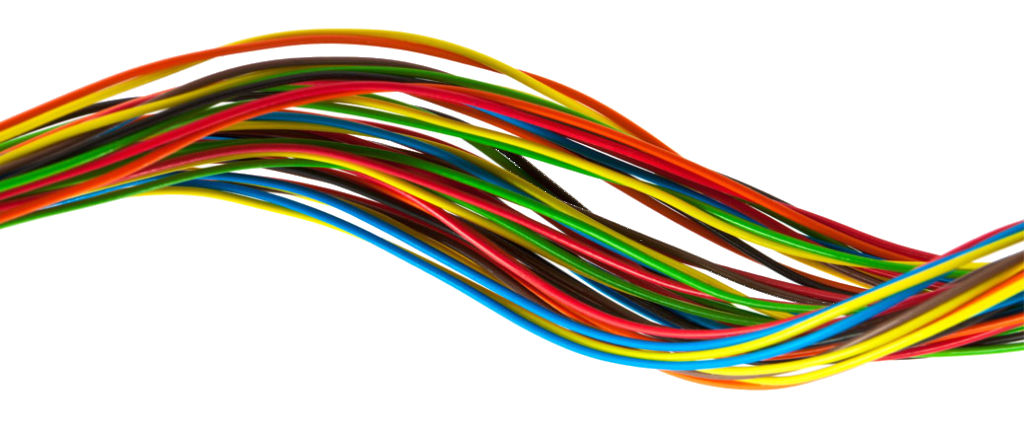 US Wiring Color Codes
In the USA, color codes are usually utilized for power wires in "branch circuits," the wiring between the last protective device.
AC Wire Colors For 120/208/240 Volts
These are the types of wire colors commonly found in home and office settings.

Phase 1 - Black

Phase 2 - Red

Phase 3 - Blue Neutral - White Ground - Green, Green with Yellow Stripe, or Bare Wire

If one phase of your wiring is at a higher voltage than others, using a high-leg connection, wires should be marked orange for that phase. High-leg connections are typically uncommon in newer installations.

AC Wire Colors For 277/480 Volt
Industrial motors and equipment typically have higher voltage systems. Phase 1 - Brown Phase 2 - Orange Phase 3 - Yellow Neutral - Gray Ground - Green, Green with Yellow Stripe, or Bare Wire

It is very important to have a documented wire labeling system for higher voltage systems. Labels should include information regarding the circuit, and the appropriate disconnection point for lockout/tagout.

Wire Colors for DC Power
DC or Direct Current, is typically used in battery systems and solar power systems, instead of AC or Alternating Current. Positive (non-ground) - Red Negative (non-ground) - Black Ground - White or Gray
Europe & New UK Three Phase Power Cable Colors
Power cables in Europe and the UK are identified through standardised power cable colour coding.
| Cable | Earth (E) | Neutral (N) | Live 1 (L1) | Line 2 (L2) | Line 3 (L3) |
| --- | --- | --- | --- | --- | --- |
| Colour | Green | Blue | Brown | Black | Grey |